The Beautiful Benches of Bird Rock
May 06, 2019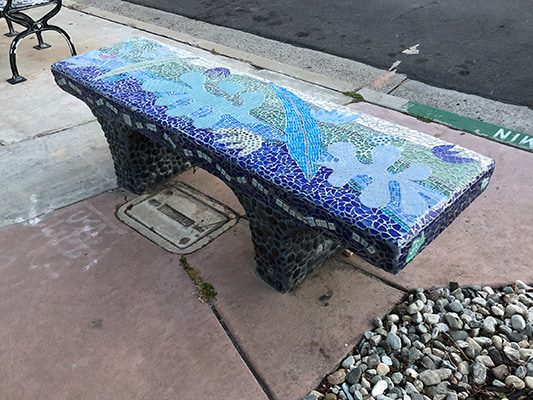 One look and I was entranced and intrigued.
It was a stunningly beautiful bench at a scenic seaside boulevard in Bird Rock, La Jolla, San Diego, California.
A medley of colorful mosaic in blues and greens and white. A pattern here, a symbol there, a phrase tucked in elsewhere – it just pulled the viewer to admire and savor its beauty. Looking at it, one just knew that the creator had inlaid not just mosaic pieces in a pattern, they had but also inlaid a story in the bench.
More on that later. First, how I arrived at this bench extraordinaire.
As a landscape watercolor artist, scenic holidays invariably mean painting spells for me. My most recent weeks-long tryst with easel, sketch pad, and camera in tow was in San Diego, California. The man-made city and the nature-made seaside and cliffs here are bursting with artistic inspiration. The people are friendly and relaxed.
I had already spent many happy days walking along the beaches and the parks, capturing breathtaking panoramas dipped in ephemeral light (it was an unusually wet month for the area) in my plein air paintings and photographs.
And then, I saw this bench on La Jolla Boulevard and I had found another memorable gem. Or so I thought.
Actually, I had found a complete treasure chest.
There was a whole series of similar benches along the boulevard. Each done up in colorful mosaic and each more striking than the one before.
Meeting the artist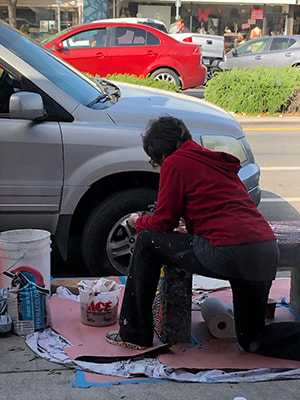 Serendipity waved its magic wand the next day. Coming out of a bustling café, I saw the artist at work on a bench right outside. She was sitting on her knees, completely absorbed in her work, oblivious to the hubbub around her. She would, however, take the time to smile and acknowledge when people (mostly tourists) stopped to say words of appreciation to her. When I said a few words of admiration about the color combinations and thoughtful designing, she took a pause from her work, introduced herself as Jane Wheeler and gave me a brief outline of her work.
Jane Wheeler is a graceful lady with twinkling eyes and youthful enthusiasm oozing from every pore. As friendly a person to meet as her art.
Here is what she told me.
The story behind the bird rock benches
These benches are called the Bird Rock Benches. Last year marked the 10th anniversary of their origin. In 2008, the first of these benches were salvaged by Joe La Cava, the Bird Rock CC. The benches were slated to be removed and replaced. La Cava brainstormed with Jane, a local resident and noted mosaic artist, and she conceptualized a new lease of life for the old benches.
The first bench at 5685 La Jolla Blvd carried the message – 'By the sea. By the sea. By the Beautiful Sea'. It was a rousing success and a tradition was born.
A series of sponsored benches commemorating local heroes and fond remembrances followed.
'Community Spirit', 'Children are the Future', 'Bird Rock by the Sea' and 'Circle of Life' are the other four benches. Each one is a vision holding a meaningful message within. Each of these benches inspires the viewers and tells a tale packed with local flavor.
As I thanked Jane for taking out her valuable time to talk to a tourist, she handed me a souvenir of her work. Double thanks!
Good work, Jane Wheeler. It was an honor to meet you. Keep creating works of beauty!